Robin's Nest Foundation Inc. has the vision of empowering teens and veterans through proven equine interactions.
Our goal is to build a community. A community where the human-horse interaction can repair a broken spirit. Sometimes it's hard to see the light at the end of the tunnel. Robin's Nest Foundation is here to shine that light on the positive through nature and animals. Donations will be used for the boarding the rescue horses, hiring therapists trained in equine therapy, and constructing on-site therapy offices. We can't do this without you. 
Children, Teen, and Adult Therapy
Did you know...
Riding a horse can boost the sympathetic nervous system, which improves learning in children, teens, and adults.
Equine Assisted Therapy is a proven tool for treating children, teenagers and adults experiencing depression, anxiety, and/or trauma-related symptoms.  Additionally, equine therapy has proved to be effective in addressing ADHD, autism, and dyslexia.  Experiencing the horse and human connection can lead children, teens, and adults to a better understanding of the social world. Horses can give us experience in responding to complex emotional influences and non-verbal communication. Riding horses is thought to re-wire the brain to set it up for learning. The tri-demential rhythmic movement of a horse helps those with sensory processing difficulties, and concentration limits become more aware and focused on tasks.
Sky View Farm, located in Castle Rock, Colorado, offers group camps and activities as well as individual counseling options for children, teens, and adults with these symptoms/diagnoses.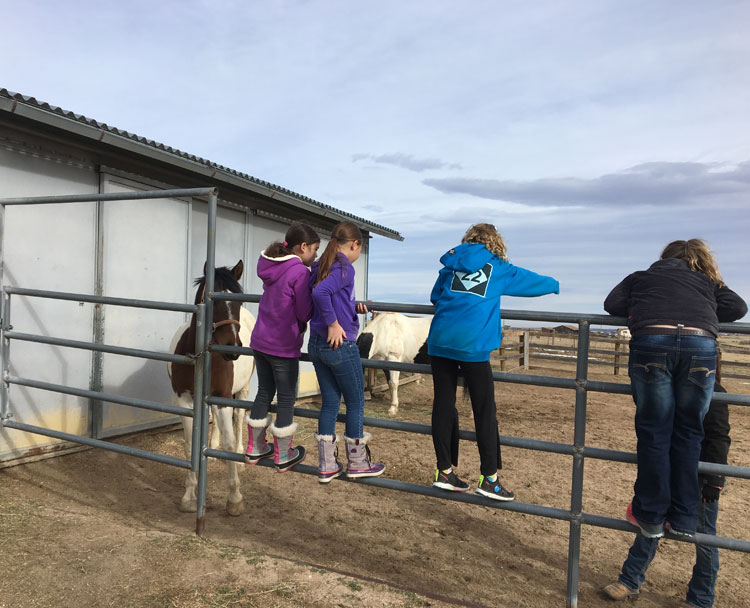 Offers veterans and active duty service members a place to learn horse handling and equine behavior while interacting with other service members.
Mallory holds a Bachelor's Degree in Psychology, a Master's Degree in Clinical Social work, is a Licensed Social Worker, and LCSW Candidate. With over 10 years experience working in various educational settings, inpatient behavioral health treatment, and non-profit program facilitation and management, Mallory currently fulfills her role as Program Director and Clinician for Mustard Seed Ranch, a charitable non-profit equine assisted therapy program for youth who have experienced trauma. Mallory is also the founder of H&H Connections, providing equine assisted psychotherapy, learning, and consulting. With training in Natural Lifemanship, Mallory thrives in creatively pairing her clinical knowledge of behavioral health to the experiential process of implementing horses, while engaging clients in a meaningful way. Horses have always been a safe, educational, and healing space for Mallory. She enjoys sharing that novelty with those she works with. Mallory's mission is to create a unique and healing environment for individuals to feel their most authentic and capable selves, as they discover hope and heal.
Elaine Marion, TRI, ESMHL
Elaine has spent a lifetime pursuing her education as a horsewoman and has learned from nationally and internationally acclaimed horsemen. She has been training horses and instructing riders for over 20 years. Her multidisciplinary background includes Eventing, Dressage and Jumpers as well as some experience in western disciplines such as Ranch Versatility. Elaine holds certifications through PATH Intl in both Therapeutic Riding as well as an Equine Specialist in Mental Health and Learning. She is also a USDF Silver Medal rider.