Robin's Nest Foundation Inc. has the vision of empowering teens and veterans through proven equine interactions.
Our goal is to build a community. A community where the human-horse interaction can repair a broken spirit. Sometimes it's hard to see the light at the end of the tunnel. Robin's Nest Foundation is here to shine that light on the positive through nature and animals. Donations will be used for the boarding the rescue horses, hiring therapists trained in equine therapy, and constructing on-site therapy offices. We can't do this without you. 
Children, Teen, and Adult Therapy
Did you know...
Riding a horse can boost the sympathetic nervous system, which improves learning in children, teens, and adults.
Equine Assisted Therapy is a proven tool for treating children, teenagers and adults experiencing depression, anxiety, and/or trauma-related symptoms.  Additionally, equine therapy has proved to be effective in addressing ADHD, autism, and dyslexia.  Experiencing the horse and human connection can lead children, teens, and adults to a better understanding of the social world. Horses can give us experience in responding to complex emotional influences and non-verbal communication. Riding horses is thought to re-wire the brain to set it up for learning. The tri-demential rhythmic movement of a horse helps those with sensory processing difficulties, and concentration limits become more aware and focused on tasks.
Sky View Farm, located in Castle Rock, Colorado, offers group camps and activities as well as individual counseling options for children, teens, and adults with these symptoms/diagnoses.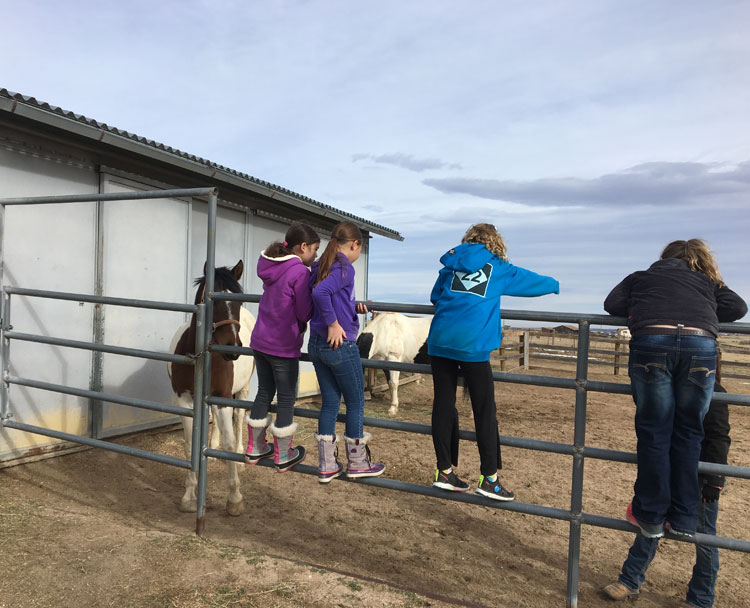 Offers veterans and active duty service members a place to learn horse handling and equine behavior while interacting with other service members.
Sharon Tiraschi, CTRI, MMES
I was introduced to the world of horses over 30 years ago when I was just about 7 years old. Since my first day at the stables, I've essentially never left! I caught the horse bug in a serious way, and now I work to help humans and horses have the best interspecies relationship possible.
I enjoy teaching both English and Western riding to recreational riders of all ages and abilities. I'm a certified riding instructor with PATH Intl, and I've also held a CHA certification in both English and Western riding instruction. In addition to teaching riding, I'm a horse trainer and horsemanship coach/consultant. In my work, I always put the horse first and try my best to look at the world from the horse's point of view. I strongly believe that in all we do with horses, we must start from a place of love, connection, and relationship first.
Because I believe that education and evolution in horsemanship never really stops, I'm currently working on certifications in holistic horsemanship (with Anna Twinney of Reach out to Horses), Masterson Method, and saddle fitting (with Saddlefit4Life). Bringing bodywork, saddle fitting, and a holistic approach to horse training, care, and management to my existing instruction and training practices has made a world of difference to the humans and horses I am privileged to work with.
I first started teaching riding in 2002, and since then, I've served as an instructor, trainer, barn and equine manager, riding program director, and much more, across California and Colorado. I love to teach people about the big wide world of horses and not just about riding, as my goal is to help develop true horsemen or women through my program. I bring my entire 30 plus years of equine education and experience to every session in order to offer the best and most complete experience and support for you and your horse, and if I don't have the answer, I will work tirelessly to find it for you!
A Colorado native, Peggy has lived in Douglas County for over thirty years. Peggy and her husband have 4 children, all came without instructions, but with different learning styles and needs. She has tutored and worked in schools as a Learning Specialist for over twenty years.
Her educational background is:
• Bachelor's degree in Social Work, CSU
• Master's degree in Special Education, UCCS
As a parent of a child with special needs, Peggy was inspired to get her Ph.D. in Clinical Psychology from Walden University. She is currently finishing research for her dissertation on "Parental Stress and Coping When Having a Child with an Uncommon Disability".
She has experience with Wilson, Orton Gillingham, and Edmark training. Peggy loves when she is able to help children develop their own academic skills, even with different learning styles and abilities.
"My heart has always been helping children and their families, and I will continue to do that, however I can. I am grateful to be able to work and further educate children in an out of the box learning atmosphere." Peggy says.
Elaine Marion, TRI, ESMHL
Elaine has spent a lifetime pursuing her education as a horsewoman and has learned from nationally and internationally acclaimed horsemen. She has been training horses and instructing riders for over 20 years. Her multidisciplinary background includes Eventing, Dressage and Jumpers as well as some experience in western disciplines such as Ranch Versatility. Elaine holds certifications through PATH Intl in both Therapeutic Riding as well as an Equine Specialist in Mental Health and Learning. She is also a USDF Silver Medal rider.